Mohawk Laminate
Trims & Moldings
InstaForm moldings featuring Incizo technology

Finish your new Mohawk Laminate Floor with a complete line of moldings featuring quarter round, stair nosing and InstaForm moldings featuring Incizo technology. This revolutionary 4-in-1 profile makes it easy for customers to finish their Mohawk Laminate Floor. Use the special knife included in each package to quickly cut away what is not needed to turn your InstaForm piece into a square nose carpet reducer, hard surface reducer, or t-molding. Fewer moldings to inventory and on-site selection makes InstaForm moldings the preferred choice for flooring professionals.

Reducer Strip is used to create a smooth transition between two floors of different heights, as well as protect the planks exposed edge from damage caused by foot traffic.

T-Molding is used to bridge two areas of flooring that are the exact same height. The T-Molding overlaps the exposed edges of the floor and is secured only to the sub floor, never to the flooring itself. Generally this trim is used as the transition piece between rooms, or as the expansion piece for areas that exceed 30 feet in length.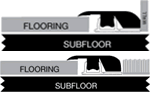 Universal Edge is also called a Square Nosing and is used where the laminate flooring butts up to carpeting, or various vertical surfaces where the edge will be exposed, such as along a fireplace.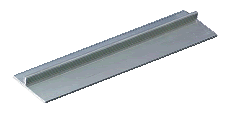 Mohawk Mono-Trak™ is used with some of the wood trim moldings to alleviate the need to nail the moldings directly to the subfloor. Mohawk's Mono-Trak™ system makes installing the trim easy and will help ensure the proper expansion gaps are always maintained between the end of the floor planks and the trim pieces. Used with InstaForm profiles only.
These additional moldings are also available.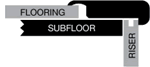 Overlapping Stair Nosing is similar to a flush stair nosing except the nosing overlaps the exposed edge of the floor. The overlapping stair nosing is secured to the sub floor and not to the laminate floor so the floor is free to move. Never butt the nosing tightly to the laminate flooring.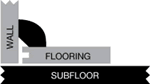 Quarter Round gives the floor a finished look and protects the edges of the laminate flooring. Never secure the quarter round to the laminate flooring. Instead, the quarter round should always be attached to the vertical wall.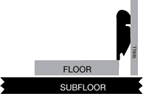 Bullnose An alternative to quarter round are Bullnose moldings, which finish a tile floor by the wall much like a ceramic or stone floor would. Also available in select wood finishes, a bull nose is a much more grand way frame the floor, much like a base board would. Bullnose moldings should be attached to the wall, not the floor, to provide adequate expansion.