Your Ceramic Tile Deserves the
Care of Mohawk FloorCare Essentials
After picking a style from the extensive collections and overseeing a successful installation, isn't it about time you actually get to enjoy your new surface?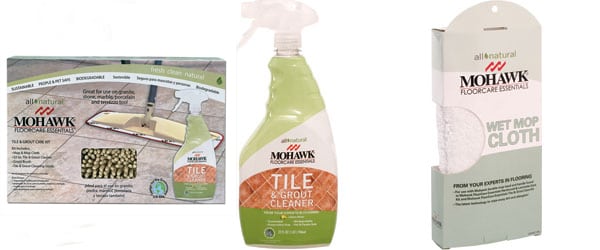 Whether enjoying a meal with the family or working from home, you employ Mohawk Ceramic Tile in your home to create a relaxing atmosphere to enhance every experience.
Thankfully, the most effective way to keep your Ceramic Tile collection in shining condition is also the easiest — with Mohawk FloorCare Essentials Tile & Grout Cleaner.
Good for granite, stone, marble, porcelain, and terrazzo, this 32.oz life–saver is designed with environmental impact and home usability in mind.
Made from an all natural formulation and sold in 100% recyclable plastic bottles, FloorCare Essentials keep your Ceramic Tile completely rinse and streak free while keeping the planet beautiful. Simply spray and wipe with a clean, dry micofiber cloth, sponge or mop.
Our comprehensive FloorCare Essentials Tile & Grout Care Kit provides even more tools to assist in your quest for maximum care. In addition to a 32 oz. Tile & Grout Cleaner, this one–stop clean–up shop includes a mop handle, mop head, Chenille Mop Cloth, grout brush, and cleaning guide.
We want to make caring for your Ceramic Tile a painless, time–saving process. FloorCare Essentials provides everything you need for any clean–up situation.